Academic Scheduling Application
SCHEDULING MADE SIMPLE
JadualWaktu.my was designed to be compatible for various academic institutions across Malaysia including college and tuition centre, you can now efficiently manage schedule with ease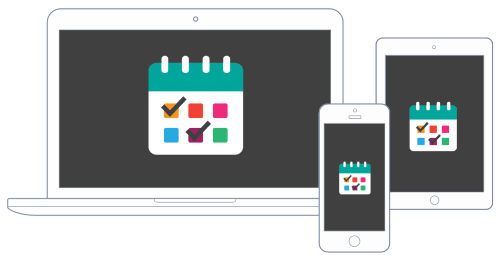 Simplify Scheduling
Manage institution resources via your favourite browser and assign time slots without hassle

Anytime · Anywhere
Simply mark students' attendance in your own device paperless and monitor absentee records

No upfront cost
Yes you can continue to use the service even your subscription period has ended!
Core Feature #1
Manage Institution Resources
You can manage institution resources which include programmes, class rooms, instructors, students & enrollments.
Manage with ease in either desktop, tablet or even smartphone!
Visualize resource availability
Quick search by using tag
Export data as PDF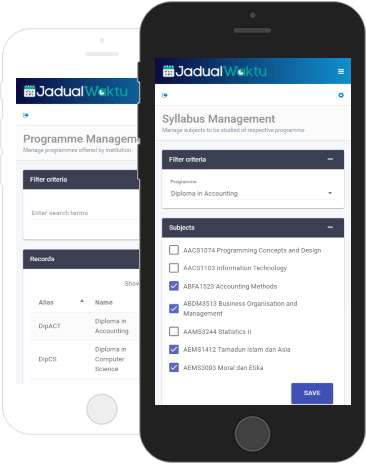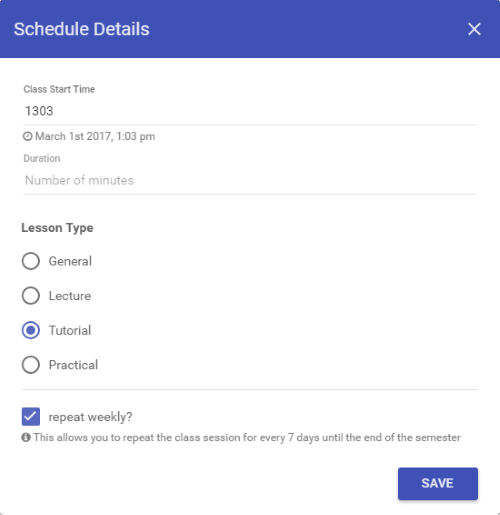 Core Feature #2
Flexible Schedule Planning
You can now plan your schedule without time conflict and never have to worry about determining the available time slots of various parties anymore.
Allow class session to repeat every 7 days for weekly class
Allow allocate class session FIRST and assign instructor LATER
Support multiple classes in a single class session
Support class replacement (relief)
Reschedule for public holiday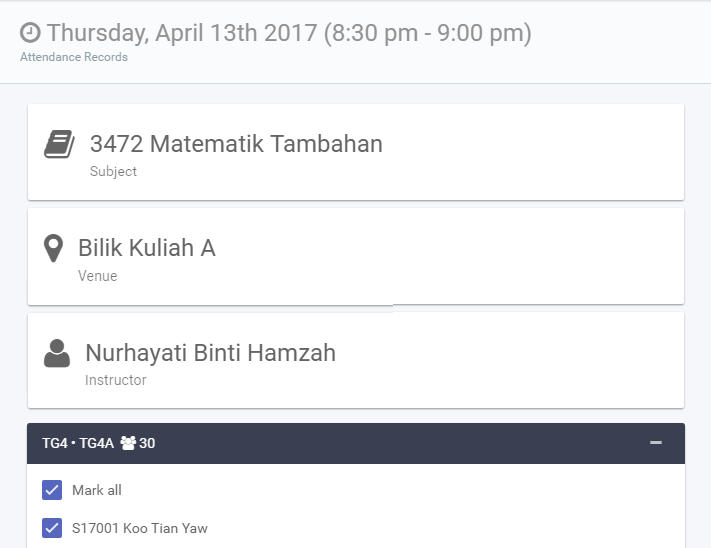 Core Feature #3
Paperless Attendance
Each instructor may be assigned with an account to mark student attendance using their own device. Besides, instructor can take appropriate action by reviewing absentee records.
Core Feature #4
Generate Report
Get insights by reviewing various reports like programme enrollment details, absence details, instructor time allocation and many more.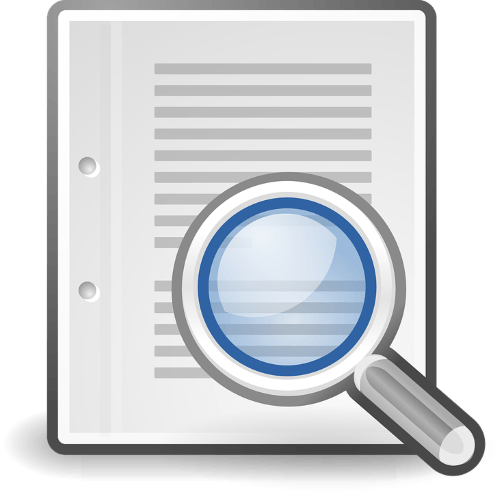 Pricing
All packages come with FREE students quota
You'll get ×20 students for each package selected based on the number of instructors. For example, package with 10 instructors will be entitled for 200 students and so on. Besides, you're able to create additional Instructor accounts with little extra charge for attendance purpose.
Monthly cost from MYR
99
Limited Time Only
Request a FREE DEMO now and start to explore for 30 days without any commitment.
Frequntly Asked Questions
1. Do I need to install the software in order to gain access to the application?
No. JadualWaktu is a cloud-based solution that allows 24×7 access on any device that comes with a web browser and Internet. This eliminates the need of IT maintenance or periodic backup for self-hosting (e.g. Intranet or perform installation on a dedicated machine) solution.
2. How reliable is the application?
JadualWaktu is hosted at Microsoft Azure which covered by Service Level Agreements (SLA) with availability of 99.95%. Besides, we take your privacy seriously and please be rest assured that your information is always kept confidential and only used for compliance purposes according to PDPA. In addition, all communication includes the data you send to JadualWaktu are secured and encrypted by HTTPS.
3. Does the application generate schedule automatically based on a predefined set of constraints?
No. JadualWaktu provides a flexible approach in scheduling which allows you to allocate class sessions just like creating an event in Google Calendar. However, you can optionally set instructor and subject max allocation as well.
4. I understand the scheduling process is not fully automated. How can I be sure that the schedule I've prepared is free of conflict?
No worry as you're able to view the availability of the resources and allocate class sessions with ease. Besides, you're able to identify total allocated hours of a given class and subject or instructor in side-by-side view.
5. How does the subscription work?
All subscriptions are billed yearly and expire 1 year after the billing date except free trial which expire after 1 month.
6. What happened after my subscription has expired?
You can still continue to login the application within the first month after expiry, but with restricted access. For example, download feature will be disabled and addition of new instructor and student are not allowed. We strongly advise you to keep a copy of backup before service termination as all associated data will be removed after the 1 month cooling-off period.
7. Can I keep a copy for the data I've input in the application?
Absolutely yes! You can download your institution data including reports anytime in PDF format.
8. Do you provide discount for institution branch?
Yes, each branch is entitled for 10% discount.
9. We are required to keep past student records for few years but it will take a huge portion of quota. Do you have any workaround?
We recommend you to utilize student quota for active students only. Therefore, you can archive students after they completed the study. Archived student data is available in Student Details Report only and doesn't take into account for calculating student quota.
10. I'm interested to calculate instructor allocation time only without storing student data in the application. Is that possible?
Yes, we offer custom package with ZERO student quota. However, you'll not be able to utilize student enrollment and attendance features. Please contact us and we can offer custom package depending on your needs.
Get in touch with us
We provide SaaS (Software-as-a-Service) and mainly based in Kuala Lumpur, Malaysia. If you're interested to apply for a trial account please feel free to contact us via any methods below.

Business
Zephyr Code Studio
(002637993-U)
Chat with us on
WhatsApp